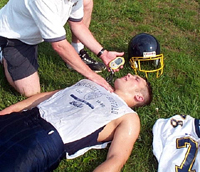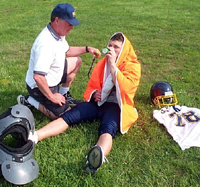 Actual Size: 5.0"H x 3.0"W



Our Price $129.95

Evaporative cooling blanket brings body core temperature down fast with new water retaining hydrophilic fibers!

Easy activation by soaking in cold water.

Simply remove from water, wring out, and wrap around chest cavity. Use next to skin for best results.

Cool Blanket may be re-used over and over.
Note: Cool Blanket is not a substitute for required medical care of heat stroke or heat related illness.
Model Number: XTCB.

Here's what the experts say:
"I used the cooling blanket for one of my heat stress patients and it worked superbly! I can document a core temperature DROP of 4 degrees with 15 minutes and complete recovery. Here is the background. A test subject, superbly conditioned male, 25 years old, heart rate monitor attached, (R) temperature probe, and VO2 Max monitor attached, worked out on a treadmill in 99(F) water for 50 minutes. His core temperature climbed to 103.8 and he got nauseous and weak. We immediately removed him from the water and attached a read out monitor to him while applying the cooling blanket. His initial core temp went UP after coming out of the water as the pool deck temp is actually 110(F). He was very pale, weak and vomited twice, he could barely stand and his vital signs were 113/58, HR 140, core temp 104.1. After placing him at rest and applying the blanket, within 3 minutes he lost 2 degrees and his blood pressure returned to normal he was no longer nauseous and was able to drink fluids. After 15 minutes his core temp was returned to normal (98.8), and vital signs 118/76 pulse 72. All of this data is on record." J.R. Handel, center for Hyperbaric Medicine, George Washington University Hospital, Washington, DC.